Corporate information
Message from the CEO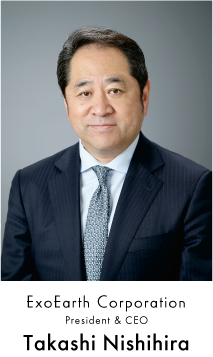 The global spread of the COVID-19 has greatly changed our day-to-day life, demanding many behavioral changes. However, if we take the current situation positively, it can be said that this COVID-19 pandemic has raised the awareness of infectious diseases among individuals and has raised awareness of health-related issues. This change will be a very important change in awareness even after the pandemic is over.
Mankind has been constantly undergoing various changes and evolutions from its birth to the present day. In recent years, there have been many cases in which past common sense is no longer common sense in the process of evolution, such as the evidence that there is an error in the idea that has been considered common sense in the theory of human evolution.
In life sciences where life is a subject of research, scientific advances in the last decade have been tremendous, and new common sense has been increasingly uncovered through the completion of human genome analysis and the elucidation of exosomes. The evolution of medical sciences has led to an increase in life expectancy, and we are about to reach the 100-year life.
However, the 100-year life does not mean that all people can live to be 100 years old. Some people may think that it depends on genetics, but various studies have shown that genetic factors are partial, and many are influenced by acquired factors. Your living environment, lifestyle, and eating habits have a significant influence on your health.
Paradigm shifts are now being sought in medical settings as well. It is emphasized that it is important to consider what kind of care is needed before the disease progresses, rather than focusing on diagnosis and medical treatments. Health is not just the absence of illness, but a state of complete physical, mental and social well-being.
The mission of ExoEarth Corporation is to create "a society where people around the world can live a long healthy life".
At our company, we believe that it is important to spread our unique "Cell Activation Method" based on cutting-edge life science exosome research and telomere research, so that everyone can bring out the original physiological functions as they did when they were young. Moreover, we believe that this can contribute to the realization of preemptive medicine and we hope to make more efforts to promote business in the future.
Company Profile
Company Name
ExoEarth Corporation
Establishment
November 4,2014
Headquarter
World Trade Center Building South Tower 17F
2-4-1 Hamamatsucho, Minato-ku, Tokyo 105-5117
Representative
President & CEO Takashi Nishihira
Capital
1347.26 million yen (including capital reserve)
Description of business

 1. Research on diseases caused by telomere shortening and the development of solutions
 2. Research, planning and development for the purpose of industrializing biotechnology
 3. Research on anti-aging products and marketing of related products
 4. Wholesale, retail and import sales of cosmetics
 5. Product planning and development of cosmetics
 6. The manufacture, sale, import, export and distribution of health food products
 7. Consulting services related to each of the preceding items
 8. All business associated with the preceding items

Major banks
Sumitomo Mitsui Banking Corporation Ginza Branch, Mizuho Bank Shimbashi Branch Association Membership
Association Membership
Research Facility

 Exosome Global Innovation Center Haneda (complete with CPF)
 Abbreviation: E-GiC HANEDA

Affiliated Clinic